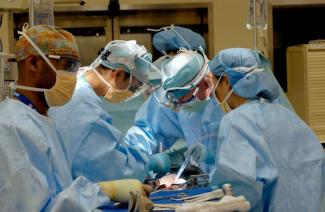 Teleflex acquisition of Z-Medica
Teleflex announced the acquisition of Z-Medica for $500 million on 10/28/20.  Z-Medica has hemostatic technologies for hemorrhagic control, and their innovations are being adopted to enable cost-effective, efficient bleeding control solutions for worldwide markets. QuickClot stops bleeding five times faster than ordinary first aid gauze bandages. Based on revenues roughly around $60 million, the company has 10% market share in a global $600M market. Management paid about 8-times 2020E revenues—Teleflex trades at 7-times revenues—and a high teens EBITDA
multiple on 2021E EBITDA (using ~$28M in EBITDA for 2021, which implies a low 40's EBITDA margin).  Management states that Z-Medica  is accretive to Teleflex's revenue growth rate, its gross margin (low 80's versus Teleflex at ~55%), and long-term operating margin goals. It appears the business is growing high single digits, while it is likely down in 2020: ~$55M in 2019 and ~$65M expected in 2021. If Z-Medica management achieves specific milestones, there is $25M in additional payment. There are tax benefits, valued at $40M, and this reduces the multiple paid. They also expect $10M in cost synergies in year three, and for the return to exceed the cost of capital (high single digits) by year four.  They expect to close the acquisition in Q4.  Z-Medica represents 2%-3% of Teleflex total revenues. The business will generate between $0.07 and $0.15 in EPS in 2021, and can generate as much as $0.30 within four years. Management has a good M&A track record, and this checks all the boxes.
Z-Medica has three main brands:
QuikClot

– for faster time to hemostasis.

Success rate of achieving hemostasis at 89% and 100% for the second application to standard gauze at 0% and 13%.  Can also use this internally.

Combat Gauze

- #1 hemostatic device for all 5 military branches

QuickClot Control+

- used in 60% of level I and II trauma centers in the U.S.
These use a proprietary technology consisting of gauze impregnated with kaolin—also called china clay. The technology activates and accelerates the body's natural clotting ability. Kaolin is the unique differentiator and is an inorganic mineral that works on contact with blood and accelerates the body's natural clotting ability.  Contact between negatively charged kaolin and blood activates Factor XII on the blood pathway and accelerates clotting.  China is a major kaolin producer.  There are 150 clinical papers and 75 peer reviews on the technology—the website lists many.
Z-Medica's products currently focus on:
$300 million market: Trauma surgery – key call point for Teleflex sales reps (includes military)

$150 million market: Emergency Medical Services – a key call point for Teleflex sales reps (includes military)

$125 million market: Interventional segments with opportunities to expand into additional indications over time.

Revenues are 80% to 85% North America, and there are additional international growth opportunities based on leverage of Teleflex channels into existing call points.
The Z-Medica website lists the ten senior managers.  Based on the $25 million earnout, I assume most will stay. CEO Eric Compton joined in March of 2018, and was previously COO of Hologic, which is a $3.5 billion revenue healthcare company, and he has had roles at Proctor & Gamble and J&J. CFO David Dean joined in 2011 and among prior roles, he was CFO of a division at Perkin Elmer. The management team appears eminently capable to oversee the business.
Legal Disclaimer: The intent of this presentation is to provide timely and useful information to current and prospective investors. It is neither an offer of sale of interests in the Limited Partnerships nor is it an endorsement of any of the companies mentioned herein or held as investments. Although the information set forth above has been obtained or derived from sources believed to be reliable, the author does not make any representation or warranty, express or implied, as to the information's accuracy or completeness, nor does the author recommend that the above information serve as the basis of any investment decision. All representations of past performance or other financial measures are not indicative of future results and are presented for informational purposes only. Risk analysis is hypothetical in nature and should not be relied upon as a determinant of future results. Inherent in any investment is the potential for loss. This document is for informational purposes and should not be considered a solicitation to buy, or an offer to sell, a security.