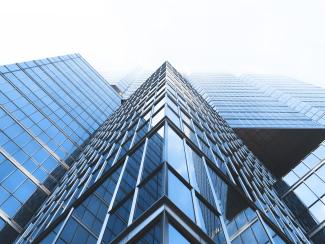 Roper Technologies – Reasonably valued for long-term transformation to software.
10.30.20 - Roper Technologies, $370 – Reasonably valued for long-term transformation to software; stock down 18% from August high, and 15% in the last two weeks—due to market correction and Q3 earnings.
Thesis:

Roper Technologies will continue to use free cash flow—it averages 25% of revenues the past five years and is 28% year to date in 2020—to acquire leading niche companies and will build out further its software platforms—software is now 68% of EBITDA. Roper continues to transform to a cloud business from an industrial, and its portfolio of ~50 businesses has many product sets that enable digital transformation. The management team works to only acquire businesses "better than us." The company is one of SRC's premier long-term investments and has stable and predictable fundamentals across the majority of its businesses, strong free cash flow generation, and excellent leadership. With increasingly limited cyclicality—recurring revenues are now approaching 60% of the business—Roper can generate mid-single digit organic growth (3% in 2019, 8% in 2018, 5% in 2017), and higher in certain segments, and take EBITDA margins from 35.6% (GAAP) in 2019 (26.6% in 2009) to 38% in the next five years.  Along with capital deployment, Roper can generate low double digit earnings growth for multiple years, and double free cash flow from 2019 to 2026—FCF more than doubled from 2012 to 2019.  Roper has been a top holding for years, and we have had reasonable success at buying incremental amounts and hedging opportunistically. But, the business is increasingly complex and it is difficult to have simultaneous conviction across the breadth of the growth drivers.
Business

:  With a $49 billion TEV, Roper operates an asset-lite business (PP&E at ~2% of revenues) in four segments and has nearly 50 P&Ls. Management runs a decentralized business and a decentralized capital deployment strategy, and corporate's main role is as a coach, helping guide the portfolio companies to deliver on financial metrics, and ensuring execution on major capital deployment.  Former CEO Brian Jellison (CEO from 2001 to 2018—died of cancer 11/2/18) architected the transformation of the business from Roper Industries to Roper Technologies, with his first major deals in 2003 (Neptune – digital water meters for $475M) and 2004 Transcore (tolling and highway RFID for $600M). The business has since deployed $18.3B in acquisitions (including Vertafore) and divested $1.2B (sold Gatan, a provider of electron microscopes for $925M to Ametek). Segment breakout follows (see appendix for detail):
Network Software & Systems – ~70% recurring revenues; initial outlook for 2020 was for mid-teens organic growth; this was to be driven by a 7 year $507M Transcore (the market leader in tolling) deal with NYC for congestion pricing, a new road tolling policy.  Delays due to the pandemic have pushed this out ($100M in revenue in 2020 vs. original view of $200M = ~2% overall organic growth hit), and this highlights the growth potential around the world. Forward view of mid-single digit organic growth. iTrade (food supply chain) is large versus next competitor.  Still appears to be a fair amount of perpetual license business. Most of the software customers are enterprise size.

Application Software – ~70% recurring revenues; multiple niche software applications; some take share and management bolts on new businesses to strengthen the product sets. Forward view of mid-single digit organic growth. Still appears to be a fair amount of perpetual license business.

Measurement & Analytical Systems – ~35% recurring revenues; includes short cycle industrial; diverse instruments business includes healthcare exposure; Neptune water meter business is about $600M (~35% of segment); per IHS, about 65% of the U.S. water meter market has been converted to radio connectivity.

Process Technologies - ~20% recurring revenues; this segment includes upstream, midstream, and downstream energy exposure.
Management recently completed (9.3.20) the largest acquisition in the company's history.  Purchased for $5.35 billion ("all in financing at just north of 1%"), Vertafore is a leading provider of SaaS solutions for the property and casualty insurance industry, and is expected to have $590M in revenues (90% recurring) and $290M in EBITDA in 2021 (purchase price of 9x forward revenues and 18.5x forward EBITDA). Insurance is behind the curve on the cloud, and Roper has the opportunity to further penetrate this stable and recurring revenue industry. A review of Vertafore (closed on 9/3/20); summary below.
Risks

:

Acquisitions and leverage: following the Vertafore deal, Roper has $9.4B in net debt, and is levered at 4.1x EBITDA on 2021E EBITDA, which is about as leveraged as it has been since 2003 (4.5x in 2003 and 4.2x in 2016). Roper will generate about $1.7B in FCF in 2021, and will use perhaps $1.2B of that to take leverage down to 3.5x.  This implies Roper cannot do a major acquisition in the next 12 months (excluding the use of equity, which investors would likely view negatively. Goodwill and intangible assets are 90% of total assets, which is about as high as any company we know, and is 209% of total shareholders' equity.  Many, many deals have built this; they can't all have been great.  Will Vertafore work out? This is for further pursuit. CEO Neil Hunn on leverage: "This is exactly the play that we ran in second half of 2016 when we bought Deltek and ConstructConnect. We essentially deployed 2016 and 2017's capital in one shot in Q4 of 2016. Similar dynamic here. It's essentially 2020 and 2021's cash flow being deployed here in the third quarter of 2020. Same exact concept."

Management seeks targets with high cash return on investment business models.

Complexity

: The company has a broad product set and end market exposures and requires the leadership team to have expertise across a broad swath of the global economy.  Something somewhere is always likely to be having difficulty.  The company will likely split out separate businesses in the next few years.

Interest rate risk:

Roper has been able to finance all the deals through very low interest rates.  They issued $2.7B in bonds with a blended fixed interest rate of 1.7% and 7-year duration. When rates go up, it will become more expensive for Roper to do deals; although acquisition multiples will come down as well.

Organic growth:

This can disappoint, and Roper has not been a high organic growth story across its full set of businesses.  There are pockets of businesses with high growth, but it is really a capital allocation story.  Might the multiple compress for this kind of business?  Not as long as free cash flow compounds as it has.
Fundamentals

:  For 2020, Roper is expected to have $5.6B in revenues, $2B in EBITDA, and $1.5B in free cash flow. 10-year CAGRs for revenues, EBITDA, EPS, and FCF have been: 10%, 14.4%, 20.6%, and 15.1%.  Gross margins increased from 51% in 2009 to 63.9% in 2020. R&D was 6.3% of revenues in 2019 versus 4.1% in 2009. Free cash flow return on capital has averaged 10.7% the past ten years, which incorporates the prices they've paid for the acquisitions—implies reasonable prices. Management emphasizes a cash return on investment model—comparative analysis of this is in a separate report. Net working capital has been sequentially more negative in recent years and is in the mid to high negative single digits—W/C is a source of cash. Deferred revenue is the main reason, and majority of this is from prepaid maintenance or annual SaaS licenses.  Debt policy is investment grade and leverage around 3x.
Management:

CEO Neil Hunn joined Roper in 2011 as group vice president with Roper's medical segment. He is extremely capable and will continue the premier leadership of Brian Jellison while putting his on stamp on the company—he has done this through the iPipeline and Vertafore deals—both recurring revenue businesses selling to the insurance industry.  This was smart. Neil has a Harvard MBA. CFO Rob Crisci joined Roper in 2013 and had been in investment banking and finance. Rob had a Columbia MBA.  The portfolio companies provide a deep bench of experienced management.
Consensus outlook:

For 2021, expects revenue, EBITDA, EPS, and FCF growth of 13%, 16%, 15%, and 15%.  Through 2023, expects CAGRs of 9%, 13%, 11%, and 16%. Analysts expect strong growth.
Valuation and share price
Given the higher current overall market valuation, and the improving recurring business mix, Roper is reasonably price versus the past five years. In the last five years, Roper TEV/EBITDA has been 1.5x that of the S&P 500 EBITDA multiple, and 1.6x the last two years; it is just under 1.5x at present. If Roper achieves the consensus outlook numbers, the stock will have a strong return from the current $370.  Our expectation is Roper can grow earnings at a low double digit rate, which is directionally comparable to consensus.
Stock:

Our EVA/WACC model uses a beta of 1.1 and overall cost of capital at 5% (this may be high given Roper's current ability to borrow at 1%+).  Using a terminal EBITDA multiple of 18x drives a NPV of $408.  Using a terminal FCF multiple of 25x drives a current NPV of $485.  Roper stock peaked at $453 in August.
Next Steps:

Further review of major acquisitions and corresponding pie chart estimating market exposures by end market—insurance through to food to water to energy.
Roper Technologies – Appendix – Companies by Segment
Application Software – Aderant (law), CBORD (campus security/ID Cards, food service planning), CliniSys (laboratory management), Data Innovations (hospitals and labs), Deltek (construction and government contractors), Horizon (foodservice K-12), IntelliTrans (transportation management to commodity producers), PowerPlan (financial and compliance management to asset-intensive industries), Strata (cloud analytics for healthcare & EPSi – hospital decision support), Sunquest (diagnostic & lab information), Vertafore (insurance),
Network Software & Systems – ConstructConnect (cloud-based collaboration for contractors), DAT (freight matching), Foundry (visual effects and 3D for entertainment/design), Inovonics (wireless sensor network), iPipeline (cloud life insurance/financial = the pipes that connect insurance companies and their distribution engine + WELiS & IFS), iTradeNetwork (food supply chain), Link Logistics (freight matching for trucks in Canada), MHA (healthcare service), RF Ideas (ID access management across vertical markets), SHP (analytics for post-acute healthcare), SoftWriters (pharmacies for long term care), TransCore (toll systems)
Measurement & Analytical Solutions – Alpha (polymer testing instruments), CIVCO Medical Solutions (ultrasound accessories), CIVCO Radiotherapy (patient positioning), Dynisco (testing/analyzing plastics), FMI (pumps for precision fluid control), Hansen (control valves for large industrial refrigeration), Hardy (precision weighing equip.), IPA (automated surgical scrub & linen dispensing), Logitech (material analysis for semiconductor), Neptune (water meters), Northern Digital (optical & electromagnetic measurement for medical/industrial), Struers (materials testing), Technolog (water & gas utility monitoring), Uson (leak detection – auto, medical, general), Verathon (medical – airway management and bladder volume measurement)

Process Technologies

– AMOT (controls/valves for energy/industrial), CCC (turbomachinery controls for energy), Cornell (specialized pumps for diverse industries), FTI (calibrators / controls for industrial), Metrix (vibration monitoring), PAC (analytical instruments for refineries / laboratories), Roper Pump (pumps & drilling sections), Viatran (pressure & level sensors), Zetec (non-destructive testing equip.)
Vertafore – Summary – Full review to come
For over 50 years, Vertafore, the leader in modern insurance technology, has built and delivered best-in-class InsurTech solutions to connect every point of the insurance distribution channel.
DENVER (June 9, 2020)—To help thousands of independent insurance agencies modernize and grow their business, Vertafore today unveiled a slate of new tools, features and products to automate and simplify insurance. The new enhancements are built on Vertafore's groundbreaking Titan™ technology, which has empowered the company to deliver 50% more features year-over-year.
Vertafore headquarters is in Denver, CO, and the company is led by Amy Zupon. Her background includes Deloitte, Accenture, and leadership roles at enterprise software companies. She has a BA in mathematics from Northwestern. CEO Neil Hunn on Vertafore: "It is the core system of record for property and casualty agents that they run their business with. Cash return on investment accretive, which is central to acquisition strategy. Strong management team has been there for four or five years, and they're building this business the right way with the proper infrastructure, the proper processes to drive long-term and hopefully improved and sustained high organic growth to what they've had historically. It's a niche, it's property, it's agency management software for property and casualty insurance agents. So it's the core software chassis that the agents use around their business. The competitive forces are known and observable. There's one primary competitor. They have a very long track record of mid-single-digit organic growth rate and in the last four or five years, they've added some products, especially on the carrier side, which we think gives optionality for higher growth rate going forward."  Roper looked at Vertafore in the past and chose not to acquire due to the management team. 
Legal Disclaimer: The intent of this presentation is to provide timely and useful information to current and prospective investors. It is neither an offer of sale of interests in the Limited Partnerships nor is it an endorsement of any of the companies mentioned herein or held as investments. Although the information set forth above has been obtained or derived from sources believed to be reliable, the author does not make any representation or warranty, express or implied, as to the information's accuracy or completeness, nor does the author recommend that the above information serve as the basis of any investment decision. All representations of past performance or other financial measures are not indicative of future results and are presented for informational purposes only. Risk analysis is hypothetical in nature and should not be relied upon as a determinant of future results. Inherent in any investment is the potential for loss. This document is for informational purposes and should not be considered a solicitation to buy, or an offer to sell, a security.