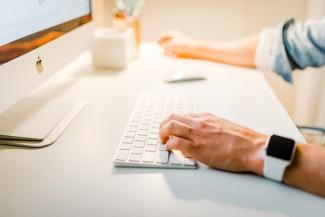 PTC (PTC) – Reason: IPO of competitor Bentley
9.24.20 – PTC (PTC) $80 – Reason: IPO of competitor Bentley ($700M rev., 4,000 employ.) on 9/23/20
• Thesis: PTC provides software for enhancing design, manufacturing, connectivity and service to the world's leading manufacturing companies. PTC enables smart connected products, and helps the connecting of machines to machines, which is increasingly important in the digital world. CEO Jim Heppelmann compared PTC's Vuforia to Zoom, with Zoom being for knowledge workers, and Vuforia being for assembly line workers—a presentation on Vuforia on augmented reality on 9/24 confirmed the lead PTC has in this approach to training. Vuforia supports file formats from 12 different CAD vendors—Solidworks, Inventor (ADSK), Catia, etc. Assembly line workers outnumber knowledge workers 3 to 1, and perhaps social distancing further increases the need for virtual training. Time will tell. The conversion to a subscription model is complete and recurring revenues are at 85%+ of the business. Cyclicality should be muted—as an example, even with new billings down ~20% in 2020, total revenues are expected to be up low double digits. Consensus expects similar revenue growth in 2021 and 2022. This growth can drive a doubling of free cash from $200M+ in 2020 to $500M in 2023. At 25x FCF in three years, this drives a ~$110 stock for a 11% stock CAGR.
• Business: PTC is a 30-year old software company with a TEV of $11B, revenues of $1.4B, 6,000 employees (2,000 in product development) and FCF of ~$200M. PTC has fractional share of a ~$100 billion market and has grown from CAD (90s) to PLM (product lifecycle management—early 2000s) to successive growth avenues through acquisitions in IoT/Virtual Reality/SaaS (Software as a Service) CAD. PTC's CAD application has been the leading high-end software for the world's largest manufacturing companies: Caterpillar, UTX, Boeing, BMW, Medtronic, GE Healthcare, etc. Subscription recurring revenues are over 90% of total software, and while new bookings will be down ~25% in FY 2020, total annualized recurring revenues (ARR) will be up ~10% due to the recurring model. Vertical exposure is heaviest in general industrial (35%—Caterpillar, Deere, etc.), defense (15%—recent quite impressive ~$100M multi-year Navy contract), electronics/high technology (~15%), automotive (8%), oil & gas, commercial aerospace, healthcare, retail, (all ~5% each). PTC can grow high single digits given its growth areas (~12% of business: IoT, VR, SaaS CAD) can grow 30%+ in a normal environment. The business was highly cyclical in the 2009 downturn due to the software license (nonrecurring) model, but that has changed with the subscription model.
• Risks:
o PTC trades with the growth/technology ETFs.
o CEO Jim Heppelmann is a risk taker and more focused on technology vision than cash flow return = technology and execution risks. We are unlikely to make PTC a top 5 position.
o Numerous acquisitions (goodwill and intangibles are 55% of total assets) in recent years have come at high prices.
o Headcount reductions/additions and execution on sales force deployments have been mixed and we've seen ~$250M in restructuring in the past 8 years—$45M in 2020E.
o PTC competes against an array of strong companies ranging from Autodesk (CAD/CAM) to Siemens and Oracle (PLM). I am updating my understanding following Bentley's IPO (9/23).
• Fundamentals: Due to the revenue model change from license to subscription and to accounting changes from ASC 605 to 606, GAAP returns have been meaningless the last few years. In FY 2020, gross margins are ~80%, adjusted operating margins are ~29%, and FCF is ~14% of revenues. Net debt/EBITDA is under 2x. R&D is ~18% of revenues in 2020.
• Management: CEO Jim Heppelmann (55) has been with the company for 22 years—he is enamored with technology, which is important, but he needs a strong operator to bring discipline. CFO Kristian Talvitie is the 3rd CFO during our tenure of owning the stock—he worked at PTC previously and rejoined a year ago. PTC has 8 board members with 4 being on for 5 years or less.
• Consensus outlook: Consensus expects revenue growth of ~10%, 14%, and 15% in 2020-2022. This drives EBITDA CAGR of 18%. Investors expect growth. The stock is now down ~20% from its high along with the sell-off in growth/technology stocks. 
• Valuation and share price: On FY 9/2021, PTC trades at 21x EBITDA and 30x FCF.
Legal Disclaimer: The intent of this presentation is to provide timely and useful information to current and prospective investors. It is neither an offer of sale of interests in the Limited Partnerships nor is it an endorsement of any of the companies mentioned herein or held as investments. Although the information set forth above has been obtained or derived from sources believed to be reliable, the author does not make any representation or warranty, express or implied, as to the information's accuracy or completeness, nor does the author recommend that the above information serve as the basis of any investment decision. All representations of past performance or other financial measures are not indicative of future results and are presented for informational purposes only. Risk analysis is hypothetical in nature and should not be relied upon as a determinant of future results. Inherent in any investment is the potential for loss. This document is for informational purposes and should not be considered a solicitation to buy, or an offer to sell, a security.