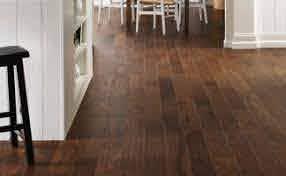 Mohawk – Beaten down global housing products company
11.2.20 – Mohawk - $110 – Beaten down global housing products company; CEO owns 14%; recent earnings encouraging; class action lawsuit has limited merit? increase housing exposure in the portfolio?
Thesis:

Global construction should continue strong with the low interest rate outlook. Mohawk is the world's largest flooring products company, but with only 3% share of the global $400 billion market—it has ~20% of the $28 billion U.S. flooring market.  It is a market leader in all flooring categories including both hard and soft surfaces and residential and commercial applications.  Technology innovations are enabling a range of high quality flooring surfaces to be available at good, better, and best price points and increasing the total addressable market. Mohawk has also added new products such as counter tops, insulation panels, and new innovative materials and patterns for surfaces. The company should have recovered earnings potential of $15 following COVD-19 and business improvement initiatives (prior EPS high of $13.61 in 2017) by 2025 and versus 2020 EPS of ~$7.75.  The stock can trade at 15-times P/E and approach $225 within the next five years.  The prior high on the stock was $275 in 2017. The recent Q3 earnings report was encouraging.  An analyst report today suggesting that the Board believes it has a strong case against the class action lawsuit/SEC investigation on management allegedly "stuffing channels" to boost sales. This has been a topic of research the past six months and we have limited true insight other than to think that a company with $10 billion in sales cannot conceivably have significant revenue inflation across the company.  It is possible that individuals managers/manufacturing sites could inflate sales for a period of time.
Business

: With a total enterprise value of $8.9 billion, and revenues of $9.4 billion, MHK has sales in over 170 countries, has over 25,000 customers (Home Depot to small local dealers; home centers are 20% of the U.S flooring market; specialty stores are 53%), and has manufacturing in 19 countries. Key brands include: Daltile, Marazzi, Pergo, eliane, Karastan, Godfrey Hirst, Durkan, and IVC. Mohawk manufacturing capacity was under indexed to the transition from soft to hard flooring over the past ten years, and has come through a period of heavy investment—both capital spending and acquisitions—to align its production capabilities in hard flooring with the market. Management increased capital spending to an average of 7% of revenues over the past 7 years.  This is versus an average of 3% over the prior ten years.  The incremental $2.5B in capital spending from 2013 to 2019 will drive significant earnings power during the next cycle. Charts on exposures and margin profile follow.
            China is over 40% of the global tile market of 141 billion square feet. Mohawk has only 2% of total share.
Management invested $2.7B in acquisitions during the past seven years, but with no significant deals since 2018, the balance sheet is now at less than 1.5x net debt/EBITDA versus a high of over 2x.
Competitive advantages include: vertically integrated low cost manufacturer across product categories; strong distribution channel and established relationships with the consumer outlets and with contractors.
Risks

: The housing market is cyclical; MHK competes in a highly competitive market and the products have limited technology differentiation with the company's advantages being manufacturing scale and distribution—Mohawk has advantages in both with 62 manufacturing sites and 31 distribution warehouses. The class action lawsuit and SEC investigation is difficult to assess. Mohawk has $2.7 billion in debt with 83% of it fixed and an average rate of 2.3%.  Maturities are laddered over time.
Fundamentals

: Mohawk has a cyclical pattern to its earnings. Revenue, EBITDA, and FCF have grown at 10-year CAGRs of 6.4%, 14.2%, and 4.5%. Revenues and EBITDA declined 22% and 45%, respectively, in 2009. For margin profile, the table shows the ten-year averages, the recent highs in 2016 and 2017, the 2019 level, and a target.  There is significant improvement possible.

                                                                     
Net working capital is high at 28% of revenues, and the business has low inventory turns at ~3.5x, and with inventories at ~20% of revenues. Management has operational improvement programs, while the business is equipment and materials intensive with PP&E averaging 30% of total assets and 39% of annual revenues. Slight improvement here can make a major earnings difference while we think the lower expected capital investment level is most important.
Management:

CEO Jeff Lorberbaum owns 14% of the outstanding stock. He has built the business through three dozen acquisitions since 1994.  He is 65. Mohawk's CFO Frank Boykin had previously retired in 2019 after 25 years with the company.  He was named CFO again in April, 2020. This was significant.  Frank had been CFO for 14 years and has Wall Street's trust.  He is 64.  The other senior managers have average tenure of over 10 years with the company.  The board has nine members—7 are independent—and eight have five years or more tenure.  The longest tenured board member is 28 and he is on the board of 8 other companies.
Consensus outlook:

For 2020, analysts expect revenue and EBITDA to decline 6% and 16% in 2020. Through 2023, the growth expectations then call for 5% sales CAGR and 11% EBITDA CAGR.  This only results in a 16% EBITDA margin in 2023. The business increased EBITDA margin by 400 basis points from 2014 to 2016 with incremental EBITDA margins of 45%.  We think EBITDA margins can improve from an expected ~14% in 2021 to 18% in 2023, which is about 45% incremental EBITDA margins. This drives EBITDA growth at a 15% CAGR rate—must faster than current consensus.
Valuation and share price

:
Mohawk is reasonably valued.  The stock is down significantly from prior highs while it has recovered from COVID lows in the $60s. We compare MHK to other residential/commercial exposure companies we own and follow. On both a fundamental and stock basis, the business has underperformed these companies we own (SHW, LII, WTS, XYL); this may look different the next five years as those companies have less improvement opportunity.
Stock:

The stock has underperformed the S&P 500 by 60% during the last five years after outperforming by 700% the prior 15 years.  Mohawk has strong market share in a global industry where scale matters. Mohawk stock should be able to outperform the S&P 500 over the next several years.
Legal Disclaimer: The intent of this presentation is to provide timely and useful information to current and prospective investors. It is neither an offer of sale of interests in the Limited Partnerships nor is it an endorsement of any of the companies mentioned herein or held as investments. Although the information set forth above has been obtained or derived from sources believed to be reliable, the author does not make any representation or warranty, express or implied, as to the information's accuracy or completeness, nor does the author recommend that the above information serve as the basis of any investment decision. All representations of past performance or other financial measures are not indicative of future results and are presented for informational purposes only. Risk analysis is hypothetical in nature and should not be relied upon as a determinant of future results. Inherent in any investment is the potential for loss. This document is for informational purposes and should not be considered a solicitation to buy, or an offer to sell, a security.