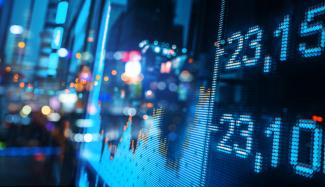 IHS Markit – Stable growth; fairly valued on NPV/DCF; reasonable value relative to comps.
10.22.20 – IHS Markit - $81 – Stable growth; fairly valued on NPV/DCF; reasonable value relative to comps.
Thesis: Information and the insights from it are increasingly important in a digital world. Stone Run Capital has a long history of investing in data-driven companies with the original knowledge of businesses within IHS Markit going back 25 years.  IHS Markit competes in a $250 billion market, and has proprietary databases that provide key insights to 50,000 customers—80% of the Fortune Global 500 and 94 of the 100 largest U.S. corporates. The company's subscription revenue model (85% recurring) will continue to provide stable growth, and IHS Markit can grow revenues at a mid-single digit pace and earnings at a low double-digit rate through 100 basis points of annual margin expansion. Since the IHS Markit merger in 2016, the company has grown EPS and FCF at 13% and 15% CAGRs, respectively.
Business: IHS Markit is a leading information services provider for the financial services, transportation, and energy industries. With $4.3B in revenues, the company has offices in 119 locations around the world, and has developed into a mission-critical, trusted partner across a "blue-chip" global customer base. The company helps businesses answer their strategic questions and was formed through the merger of equals of IHS and Markit in July 2016. Management expects its market to grow at nearly 2-times GDP due to demand for information. Through internal development, the company is adding advanced analytics on top of its data sets; this can provide incremental growth to help the company achieve the stated long-term 5-7% organic growth goal. The business has more than 5,000 analysts, data scientists, financial experts and industry specialists, which is a powerful collection of intellectual assets. In addition to the customers referenced above, IHS Markit customers include 49 of the 50 largest U.S. banks, the 50 largest hedge funds, the 50 largest global asset managers, the ten largest global custodians, and all the governments in the G20; the top 10 largest global automobile companies, and 49 of the 50 largest global oil companies.
Product set summary (revenue breakouts follow):
Financial Services: Consensus data from 70+ banks supplemented with data from exchanges, clearing houses and interdealer brokers ▪ Leading pricing provider covering 11k CDS curves and 6.5k Loan facilities ▪ Intraday pricing coverage on 2.5m corporate & sovereign bonds (GSAC), securitized products and municipal bonds ▪ PMI data sets that covers 83% of global GDP
Auto: Began tracking automotive data in 1922 ▪ Current data covers 99% of global vehicle production and 97% of global vehicle sales ▪ 3.2bn vehicle ownership records relating to 650mm US vehicles over a 20-year period ▪ Production and sales forecasts for 40,000+ global make, model, bodytype, and transmission variants
Energy: Worldwide data, some dating from 1850s − 5.8mm wells − 1.2mm oil and gas pipeline miles − 4.4mm regulatory, mineral rights, and contract documents − 30,000 power plants and 21,000 industrial plants ▪ Track over 5,000 conventional and unconventional exploration plays ▪ More than 5bn historical spot, rack and retail prices for North America which have been collected since 1980
Chemical: Data for 1,400+ manufacturing processes, some dating back 50+ years ▪ Production, trade and capacity industry analysis and forecasts for 250+ chemicals in 50+ countries ▪ Extensive library of detailed technoeconomic analysis of chemicals and refining process technologies
Product Design: ▪ 1.7mm+ engineering standards from 370+ standards organizations ▪ Largest component database with 30+ years of history, covering 500mm+ parts ▪ 75mm+ vetted technical publications ▪ 30+ leading technical publishers ▪ 10,000+ widely-used technical eBooks
Maritime: Began tracking 250+ years ago ▪ Sole appointed authority for assigning mandatory International Maritime Organization ship and company numbers ▪ Data on over 200,000 active large ships in international waters ▪ Monthly import/export stats covering 85 countries tracking > 90% of international trade value
 
Selected current and recent initiatives include:

Leveraging cloud infrastructure and building out a "data lake" repository to house and analyze the company's data. This will accelerate product development and provide cost efficiencies.
Wide range of new offerings and product extensions in recent years, including additional offerings in the CarFax franchise; research, data and tools related to emerging themes including energy transition, and numerous innovations in financial services. IHS Markit uses a vitality index and this metric has improved since the merger.
Risks:

There is increasing availability of information on the internet; IHS Markit has to continually enhance its data and the insights from it to differentiate versus what is available for free; IHS Markit licenses data from 3rd parties and these agreements could terminate; analysis of the current state of this by vertical market is a project to pursue.
Data security is a key issue; technology infrastructure is complex; the company is transitioning to cloud-based infrastructure
There are an array of competitors; pricing power has been good and could this change?
Stock options and RSUs have been a significant form of compensation, and dilution continues.
IHS Markit is organized under the laws of Bermuda; and is treated as a tax resident in the UK; if the IRS were to deem IHS Markit as a U.S. corporation for U.S. federal income tax purposes, the company would be subject to substantially greater U.S. income tax liability.
IHS Markit has about 1% of its revenues from live events. The significant decline in this business in 2020 is reflected in current year and forward year expectations.
IHS Markit has been put together through over 50 acquisitions over the past 20+ years; recent deals include automotiveMastermind (aMM) in September 2017 for $435M and Ipreo in August 2018 for $1.85B, which added complementary capabilities.  aMM added new car dealership offerings to support its CarFax used car portfolio; Ipreo bulking up private capital markets capabilities and adding well respected underwriting collaboration tools. The company has also divested several non-core and lower growth businesses, notably the Jane's aerospace & defense business in December 2019 for $470M, and an asset swap with Informa that traded sub-scale TMT market intelligence assets for agribusiness intelligence assets.
Fundamentals:

Adjusted (excluding stock comp.) gross, EBIT, and EBITDA margins are 63%, 28%, and 42%, respectively for 2020—the company has high profit margins; and these will increase gradually.
The company generates significant free cash flow with FCF averaging 22.5% of revenues the past three years, while FCF ROC is only ~7% due to the capital used for acquisitions. Similarly, ROE has only been 6% the last three years.  ROC and ROE will improve going forward, in part due to the a newly implemented dividend (0.8% yield) in addition to the ongoing share buyback program.   
For FY 2021, net debt/adjusted EBITDA is ~2.5x
IHS Markit has limited cyclicality due to the subscription model. The upstream energy business, perhaps the most cyclically exposed, is now only about 12% of the company.
Organic growth has improved following the merger. Prior to the deal, pro forma organic revenues grew only 3% and 1% in FY15 and FY16, well below peers. Organic revenue accelerated to 4.4% in 2017 and 6% in both 2018 and 2019.
While COVID-19 has impacted FY20, the business has been reasonably stable, with near flat organic revenue growth despite giving temporary price concessions to certain clients during the initial stages of the pandemic. INFO has taken meaningful cost actions to sustain profitability, and expects 200+ bps of margin expansion despite the flattish revenue. The company is guiding for ~6% adjusted EPS growth in 2020, which would be ~10% excluding the impact of the Jane's divestiture. Management provided guidance for 2021 with growth of: organic revenue at 6-8%, adjusted EBITDA at 9-11%, and adjusted EPS at 13-15% (vs. midpoints of FY20 guidance).
IHS Markit will return 50-75% of incremental capital annually through buybacks and the dividend. Management defines "incremental capital" as its FCF and incremental borrowings to maintain leverage at the targeted 2-3x level. This implies a minimum $800mn annual cash returns.
Management: Chairman and CEO Lance Uggla was drove the success of Markit (CEO since 2003) and brings broad perspective to the business. A recent CFO transition promoted Jonathan Gear to CFO. He was EVP and President of resources, transportation, and CMS. The board has 13 members with average tenure of 6 years (Lance has 17 of the total 83 years); 5 board members have less than two years on the board.  The board has extensive experience across industry.  Insiders do not own a material stock position. 
Consensus: For FY 2021, analysts expect growth: 7% revenues, 14% EPS,10% EBITDA, and 35% FCF.
Valuation and share price: On FY 2021 consensus, INFO trades on TEV: 8x sales, 30x FCF, and 19x EBITDA, and 26x P/E.  Our CFFO and FCF numbers are similar to consensus; this includes $225M in stock compensation in the ~$1.5B CFFO (15%). Eleven comparables (VRSK, CSGP, CCC, EFX, etc.) trade at: 8x sales, 37x FCF, and 21x EBITDA, and 32x P/E. Average growth for the group for 2021 is 9% revenues, 13% EPS and EBITDA. SRC's EVA model has INFO valued between ~$68 and $90 using 5% risk premium, 1.0 beta, 5% WACC, and terminal multiples of 20x EBITDA and 30x FCF.
Stock:  INFO is up 9% YTD versus the group average of 20% (Gartner down 17% to Clarivate up 80%). INFO has been a top five position for five years and we added to it during the COVID sell-off.  There is potential for valuation catchup versus the comparables; we should expect market comparable returns.
Legal Disclaimer: The intent of this presentation is to provide timely and useful information to current and prospective investors. It is neither an offer of sale of interests in the Limited Partnerships nor is it an endorsement of any of the companies mentioned herein or held as investments. Although the information set forth above has been obtained or derived from sources believed to be reliable, the author does not make any representation or warranty, express or implied, as to the information's accuracy or completeness, nor does the author recommend that the above information serve as the basis of any investment decision. All representations of past performance or other financial measures are not indicative of future results and are presented for informational purposes only. Risk analysis is hypothetical in nature and should not be relied upon as a determinant of future results. Inherent in any investment is the potential for loss. This document is for informational purposes and should not be considered a solicitation to buy, or an offer to sell, a security.