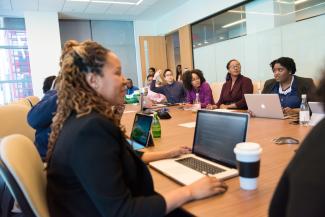 Gartner - Review of Employee metrics
11.10.20 – Gartner - Review of Employee metrics 
As a review of Gartner following the third quarter earnings call, we have updated our analysis related to employee metrics. The following focuses on Gartner staffing.  The report summarizes key points, details a number of aspects and provides a few charts for visual reference.
Key points
Incremental positive view of Gartner's ability to regain profit leverage on its employee base.  This will occur over a period of years. Following the acquisition of Corporate Executive Board (CEB), the employee base grew considerably.  "Other staff," which is non-sales staff, non-research analysts, and non-consultants, grew from an average around 50% of total staff to over 60% of total staff.  This incremental 10%, which represents about 1,500 people, is perhaps around $100 million in cost—depending on location and function of the staff.  This does not mean management will cut this staff, but it implies the company can grow revenues without increasing this "other staff" headcount at the same rate.
Gartner provides significant detail on the composition of staff—16,724 employees in 2019.  Gartner provides this information because the business is people intensive. This is both by function and location—there are over ten line items in total provided in the filings. A selection:

In 2019, research and consultants were 13% of total.  This is versus 32% of total staff in 2000 at the peak of the internet bubble.

In 2019, sales staff were 25% of total—this has been relatively constant for the past ten years.

US staff of 9,468 were 57% of total and staff outside the U.S. of 7,256 were 43%. 

The year to year changes provide insight into management decisions.
Profit leverage on staff as measured by free cash flow per employee increased 50% from 2007 to 2014—from $31k/employee to ~$46K/employee.  During this same period of time, a set of owned SRC investments averaged about $50K in FCF/employee—these include Danaher, Roper, Ansys, Verisk, Heico and five others.

Free cash flow as a percent of revenues went from 10% to 15% during this time. It was back at 10% in 2019.

Staff other than employees in sales, research, and consulting is significantly higher now than between five and ten years ago. 
Per employee metrics have been under pressure following the Corporate Executive Board (CEB) deal.  Staff jumped considerably and this is detailed below.  The business can regain its prior leverage on staff.

Discussion of staffing by function is a line of questioning to pursue with the company.

The data suggest as Gartner develops incrementally its inroads into the stated $200 billion total addressable market, the per employee metrics will improve. Gartner provides metrics on sales staff efficiency. Management faces the ongoing decision of how rapidly to grow sales staff to drive a certain growth rate, while also looking to improve profitability.

Success would lead to Gartner once again having free cash flow at 15% of revenues.

Current consensus has one estimate of 12% in 2022. 

While management will balance growth rate versus profit level, it is reasonable to think the business could have $5.5 billion in revenues in 2023 and a 14% FCF margin, which implies ~$750M in free cash flow.  At a 25x TEV/FCF multiple, that implies about a 30% increase in the stock price even from the now recovered level of $150+.
Gartner per employee metrics are strong relative to other human capital intensive businesses like EPAM Systems, Cognizant, and Accenture.  The below are ten-year averages.
Per employee metrics for premier software/data companies are likely out of reach.  The following has ten-year averages and then the most recent fiscal year.
More comparable businesses—content and insights—Verisk and IHS Markit are also considerably higher and at about $65K/employee in free cash flow.
Discussion
From 2007 to 2014, Gartner total staff increased from 4,006 to 6,758.  Research analysts and consultants went from about 1,100 (27% of total staff) in 2007 to 1,556 (23% of total staff) in 2014.
Revenue per employee stayed about constant = $297K in 2007 to $299K in 2014

EBITDA per employee went from $42K to $51K

Free cash flow per employee increased about 50% from $31K to $46K

There was considerable profit leverage per employee during this time.

This also compares with FY 2000 when revenue per employee was $198K and EBITDA per employee was $28K.
The metrics declined from 2014 to 2016—in part due to a -6% impact from foreign exchange in 2016—and then changed radically in 2017 due to the acquisition of Corporate Executive Board (CEB).  The CEB business model was inferior and so the metrics became materially worse following this deal.  For example, CEB revenues per employee were roughly $100K lower at $194K in 2016, and with lower profit margins.
The acquisition of CEB brought 4,900 staff and total staff at Gartner jumped over 70% between 2016 and 2017 from 8,813 to 15,131. 
Sales staff went from 2,423 (28% of total staff) prior to the deal to 2,807 (16%) in 2017.  On a relative basis, this means that there was a lot of growth in staff other than sales representatives.

Research and consultant staff went from 1,922 (22% of total staff) to 2,114 (14%), which was only 10% growth. The growth in staff was not in sales or research—are there inefficiencies in these areas?

This is a line of questioning to pursue with the company.

This means that staff other than sales and research/consultants jumped 133% from 4,468 to 10,424! This highlights the difficulty in Gartner merging the two companies and there should be opportunity to create efficiencies over time. Management did take actions:

By 2018, total non-sales and non-research/consultants dropped 12% to 9,165.

In 2018, sales staff increased 39% from the 2,807 to 3,894, which brought this back up to 26% of total staff.  Sales staff grew 6% in 2019 to 4,136, and were 25% of total staff.

In 2018, total research and consultant staff increased 11% bringing it up to 14% of total staff. 
With management's view of the Gartner + CEB combined total addressable market (TAM) of ~$200 billion, they have increased the size of the sales force to address the distinct verticals: technology (traditional exposure), supply chain, marketing, human resources, finance, sales, and legal & other.  On the traditional TAM of perhaps $75 billion—$55B for technology and then pockets from the others, Gartner has a total annual contract value of $3.4 billion or 5% of the market. The current investment in staff is geared towards enabling annual contract value to grow towards 5% of the $200 billion TAM, or $10B in contract value versus the $3.4 billion today.
We see this in the 2019 metrics per employee:
Revenues: $254K versus the $300K of 2014.  Given the additional end markets, why shouldn't this number gradually grow back to the $300K? Or even higher? 

We will review sales staff productivity in a subsequent review.

GAAP EBITDA: $41K versus the $51K in 2014.

Free cash flow: $25K versus the $46K in 2014.
Is the lower profitability per employee due to a change in the inherent profit profile of the business? Gross margins were 58.5% in 2019, which is about flat with where they were for the four years prior to the CEB acquisition.  So, the answer is no. Based on gross margins, Gartner should be able to increase profit leverage on its staff and increase profit margins.
Legal Disclaimer: The intent of this presentation is to provide timely and useful information to current and prospective investors. It is neither an offer of sale of interests in the Limited Partnerships nor is it an endorsement of any of the companies mentioned herein or held as investments. Although the information set forth above has been obtained or derived from sources believed to be reliable, the author does not make any representation or warranty, express or implied, as to the information's accuracy or completeness, nor does the author recommend that the above information serve as the basis of any investment decision. All representations of past performance or other financial measures are not indicative of future results and are presented for informational purposes only. Risk analysis is hypothetical in nature and should not be relied upon as a determinant of future results. Inherent in any investment is the potential for loss. This document is for informational purposes and should not be considered a solicitation to buy, or an offer to sell, a security.