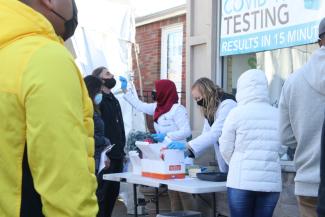 Danaher (DHR) - Premier company with COVID tailwinds; expectations too optimistic on 2021 revenues?
Thesis:

Danaher is a premier company and 2020 has been a moment to shine due to its numerous positive impacts to combating the COVID-19 pandemic. A series of major capital allocation decisions during the past ten years enabled the company to be perfectly positioned for molecular diagnostic testing (Cepheid), and vaccine development and manufacturing (Pall Life Sciences and Cytiva—the name of the acquired GE Biopharma business). Danaher adjusted earnings grew 63% in Q3 (Cytiva's adjusted operating margins are over 40%). The tailwinds will continue in 2021, though consensus expectations now assume continued strong grow—11% organic growth in Q4 2020 and 11% organic growth in 2021 (which will be on top of some strong quarters in 2020). There will be cyclical recovery in the environmental and applied solutions segment. SRC ongoing research is reviewing how likely the business is to deliver on varying expectations for growth under different coronavirus scenarios: what can growth rates be in Cepheid, Pall, and Cytiva? The stock has outperformed the S&P 500 by 30% in the past year, by 55% in the past two years, and by 75% in the past five years. A reversion to the mean may occur at some point.
Business

: During the fifteen years we have followed Danaher, the company has increasingly moved towards higher margin, higher R&D, and higher technology businesses. Danaher spun off Fortive (industrial franchises) in 2016 with over $6.2 billion in revenues and Envista (dental business) in 2019 with over $2.7 billion in revenues. The Beckman Coulter, Pall, Cepheid, and Cytiva acquisitions used $46 billion in capital and these have built one of the two premier life sciences and diagnostics franchises (with ThermoFisher). Danaher also has the best water quality franchise in the world (Hach, ChemTreat, and Trojan represent $2.5 billion in revenues; ~25% EBITDA margin; ~$20B addressable market). Danaher generates free cash flow at ~20% of revenues, and so despite the recent close (March, 2020) of the Cytiva acquisition for $21.4 billion, Danaher is levered at about 2.3x net debt/2021 estimated EBITDA.  Any forward assessment of the company should include capital deployment.  Danaher levered to 3.7x net debt/EBITDA for the Pall deal, and at the time of the Cytiva announcement (included a savvy use of $3 billion in equity), we expected Danaher to be levered at ~4.5x proforma 2019 expectations. Using 4x leverage as a place holder, and $8 billion in 2022 EBITDA, Danaher will have over $25 billion in acquisition capital through 2022.  We should expect management to execute on some amount of this capital opportunity. Does Perkin Elmer with a total enterprise value of $16.8 billion finally make sense? The point is that Danaher's execution is excellent and the Danaher Business System (DBS) enables the company to make strong assets even better.  We have seen this multiple times. Danaher has grouped its business in ten different segments during the past fifteen years; it now has three: Life sciences, Diagnostics, and Environmental & Applied Solutions.
Overall EBITDA margins have trended up and the Life Sciences segment has grown to represent over 50% of EBITDA. Analysts expect strong growth in Life Sciences in 2021.
Given the numerous segments and acquisitions, to best understand the revenue drivers for the company, we have delineated the business into its key brand franchises.  There are more than 25. 
The below pie chart shows the major role Cytiva now plays in the franchise.  The $3.1 billion in revenues for 2020 are only three quarters, meaning the impact is even greater in 2021 and we expect continue growth in Cytiva to $4.6 billion (15% growth)—we need to review what sell side analysts expect.  The business is now ~30% larger than when Danaher acquired it (just 9 months later) due to its support of helping customers develop and potentially produce a vaccine for COVID-19.  Pall Biotech grew at a 20% organic rate in the third quarter and will grow faster in Q4 and potentially for all of 2021. Cepheid had $539M in revenues in 2015, and after strong growth through 2019, will be up about 100% in 2020 to nearly $2B. Cepheid tests are at the point of care, it now has a 4-in-1 combination test for COVID19, Flu A, Flu B, and RSV, and its instrument placements have increased 35% in 2020. Management expects growth to be back to low double digit in 2021, but even this would be remarkable given the surge in 2020.
​​​​​ 
Risks

: Danaher's business has strong secular drivers in life sciences research, diagnostics, water quality, and package identification. Given the trailing results, key risks now include reduced demand for COVID-19 testing kits and lower than expected revenues from vaccine manufacturing.

Incremental COVID-19 test cartridges resulted in an estimated $180M in revenues in Q2 and $210M in Q3. Cepheid will have very difficult comparisons in Q3 and Q4 in 2021.  Will the world still need millions of diagnostic tests each quarte with the vaccine in distribution? What about 2022?

There have been over 400 programs to develop therapeutics and vaccines for COVID-19. These have driven the growth in bioprocessing and bioproduction at Pall Biotech and Cytiva. SRC continues to work on an understanding of how revenues evolve as investigational programs wind down and specific successful vaccine candidates go into production. Thermo said it expects "billions" in vaccine manufacturing revenues in 2021.   Danaher bioproduction/bioprocessing is directionally comparable?  SRC is reviewing Repligen vaccine exposure again to triangulate expectations for 2021. What happens then in 2022?
Fundamentals

: Danaher has a total enterprise value of $186 billion with $22 billion in revenues, $6.2B in EBITDA (28% margin), and $4.5B in free cash flow. \

Adjusting for the Fortive and Envista (dental) spin offs, Danaher has grown revenues at a 14% CAGR over the past ten years including acquisitions. 

Ten-year proforma organic growth has been mid-single digits.

Ten-year proforma CAGR has been 18% for EBITDA and 20% for free cash flow.

Gross margins are in the mid 50's and have increased gradually from 50% ten years ago.  We expect margins to increase further.

R&D is over 6% of revenues, and will be about $1.5 billion across the company in 2021.

Free cash flow return on capital had been in the 11-12% range prior to the Pall deal and will be about 8% in 2020—even with the recent acquisition of Cytiva increasing the capital base considerably. The ROC would rise considerably if Danaher were to stop doing deals, but management will keep the growth engine in action.

Net working capital as a percent of revenues hovers in the 8% range, which is an indication of how operationally efficient the company is.
Management:

Danaher is now on to its third CEO during the time we have invested in the company. Following the successful tenures of Larry Culp and Tom Joyce, Rainer Blair took the reins several months ago.  He joined Danaher in 2010, was recently EVP with responsibility for the life sciences segment, and had worked with Tom for ten years. We expect Rainer to utilize DBS and Danaher's balance sheet to continue to execute on major acquisitions. While we didn't expect Tom Joyce to step down so quickly, Rainer has been the obvious successor for several years. CFO Matt McGrew has been at Danaher for 17 years, has been group CFO for a number of segments and was VP of IR from 2009 to 2014.  Danaher has a very deep bench of managers. The board has 12 members and is dominated by the two early minds behind Danaher: the Rales brothers.  They have been on the board for 37 years. Steve Rales is chair and owns 6% of the company, and his brother Mitch owns 5%.
Consensus outlook:

Analysts expect Danaher to grow revenues 16% and 6% in 2022 and 2023, respectively. This drives 23% and 8% growth in EBITDA and 19% and 9% growth in EPS.  Free cash flow is expected to grow at a low teens CAGR. Growth comparisons will be difficult in Q3 2021 and Q4 2021.
Valuation and share price

: Assuming Danaher meets consensus expectations for 2021, the company is trading at 31-times P/E, 24-times TEV/EBITDA, and 35-times TEV/FCF.  This compares to trailing five-year averages of 24-times P/E, 19-times EBITDA, and 27-times FCF.
Incorporating the increase in S&P 500 valuation, and looking at Danaher valuation relative to the past shows that on FY 2021 numbers, Danaher's TEV/sales multiple of 6.5x is 2.1x that of the S&P 500 versus a trailing average of 1.8x. This is a 17% premium, which is comparable to a number of companies in the portfolio.  TEV/EBITDA is at 1.56 that of the S&P 500 EBITDA multiple versus a five-year average of 1.5x.  This is less of a premium.  This lower premium also incorporates how much growth is expected in Danaher EBITDA in 2021 (23%).
Stock:

The stock is about as expensive as it can get at 35-time FCF.  This multiple is unlikely to go higher.  Goldman Sachs initiated on 12/2 on Danaher with a price target of $250.  We own a large position (top five) with a very low tax base—the stock is up ten-times from our purchases in 2008 and 2009.

We want to own Danaher for the long-

term

We can build the position further.

  To what level? 5%+.  At what price? $185 is about 30-times 2021E FCF.  That is 20%+ down from the current level.

We can reduce the position and recognize gains in 2020 and 2021. 

Danaher becomes a source of cash for other investments.  We are unlikely to be able to invest in a comparably strong company with as strong secular drivers at a more attractive valuation.

The view of how much life sciences exposure to have relative to other exposures thus becomes the strategic reason to evaluate position size.  Life sciences has done very well in 2020.  It should do very well in the next five years.  SRC will continue to dive deeper into the 2021 analysis for Danaher and the related companies.
 Several additional exhibits follow to provide further understanding of the three segments.
Legal Disclaimer: The intent of this presentation is to provide timely and useful information to current and prospective investors. It is neither an offer of sale of interests in the Limited Partnerships nor is it an endorsement of any of the companies mentioned herein or held as investments. Although the information set forth above has been obtained or derived from sources believed to be reliable, the author does not make any representation or warranty, express or implied, as to the information's accuracy or completeness, nor does the author recommend that the above information serve as the basis of any investment decision. All representations of past performance or other financial measures are not indicative of future results and are presented for informational purposes only. Risk analysis is hypothetical in nature and should not be relied upon as a determinant of future results. Inherent in any investment is the potential for loss. This document is for informational purposes and should not be considered a solicitation to buy, or an offer to sell, a security.