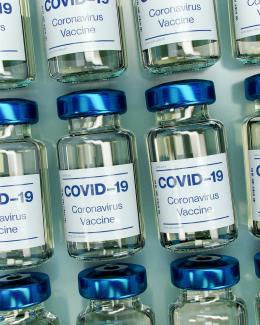 Catalent (CTLT) – Fast growing life science company keeping pace, and competing with ThermoFisher, but smaller
Thesis:

Innovation in

large molecule biologic drugs has been and will continue to be a major global growth story. Small and large biopharma companies are outsourcing development and manufacturing work to companies like Catalent.  Catalent has been a "go-to" company for COVID-19 vaccine and treatment development with the company working on over 75 compounds.

While ~10% of approved therapies are biotechnology driven, over 40% of biopharma research pipelines are large molecule (biologics) or cell and gene therapy. There is strong long-term growth.

The automation and streamlining of biologic production is one of the greatest technical challenges in the world today. This is speeding the creation of a live organism.
Business

:

Catalent is a leading global provider of development, delivery technologies, and manufacturing solutions for drugs, biologics, cell and gene therapies, vaccines, and consumer health products (exhibit slide I). Catalent is a global contract development and manufacturing organization (CDMO). Over the last four years, CTLT has utilized an aggressive M&A strategy like Thermo Fisher to transform and increase its exposure to the fast growing biologics market. Starting with Cook Pharmica (2017) and ending with Paragon Bioservices (2019) and MasTHerCell (2020), Catalent has built an end-to-end biologics CMDO. Founded in 1933, the company has over $3.5B in revenues, 1,000+ customers (86 of the top 100 branded drug companies) and 7,000+ products.  It does not have product concentration as its top 20 products are 18% of revenues and its leading product is less than 3% of revenues.  Products for the manufacture of biologic drugs represent 37% of revenues.

Catalent has over 20 R&D teams and 2,500 scientists that collaborate with customers to accelerate the introduction of new technologies.

Catalent has over 2,000 quality control and regulatory employees

Catalent provides good disclosure on the 13,900 employee by location (~45% in North America, less than 5% in APAC, etc.)

The business is based in Somerset, NJ and has 53 facilities around the world. These total 7.1 million square feet of manufacturing, laboratory and related space.
Risks & Debate/Pushback

:

Catalent competes against larger companies for both business and deployment of capital; yet management has successfully deployed $2.8B in M&A in the past five years; and has grown organically at about 8% since 2015, which is above all similar companies (BDX to CRL to DHR to PKI to TMO).

The business has been leveraged in past years: for FY June, 2019, the company had net debt of $2.5B and TTM EBITDA of $600M and so was over 4-times net debt/EBITDA. It is now about 2-times net debt/EBITDA.

Catalent's larger customers can in-source the work they provide to Catalent. The trend has been towards outsourcing for over ten years, but this is always a risk.
Porter's Five Forces:

Notes

Bargaining Power of Suppliers: Catalent has a diverse set of suppliers and limited exposure to any specific company or raw material

Bargaining Power of Buyers: Catalent sells to very large global biopharma companies and they can have pricing leverage over Catalent, while volume growth is making this a non-issue at present. 10-K: "We generally secure pricing and other contract mechanisms in our supply agreements to allow for periodic resetting of pricing terms, and, in some cases, these agreements permit us to raise or renegotiate pricing in the event of certain price increases for the raw materials we use to make products."

Threat of New Entrants: Catalent competes in the very dynamic life sciences technology market and there is always the risk of new entrants, while Catalent has achieved enough scale in the last five years that its business is now quite diverse. There is greater risk of competition from the existing industry players.

Threat of Substitutes: Catalent products and services are regulated, and in many cases, designed into the manufacturing process of a drug or vaccine; there is limited risk of substitution once a company is using Catalent products; the clinical trials business can be subject to cancellation.

Competitive Rivalry: ThermoFisher is a broad competitor and CTLT management has followed the Thermo playbook of acquiring aggressively to take market share. In biologics manufacturing, Catalent competes with Lonza, Boehringer Ingelheim, and Samsung Biologics.
Fundamentals

: Catalent has a total enterprise value of $24.3 billion.  Expectations for calendar year 2021 are: $3.9 billion in revenues, $980M in EBITDA (25% margin), and $175M in free cash flow (5% margin). Capital spending has averaged 7% of revenues the past ten years and is expected to be just over 10% of revenues the next two years—management continues to build out manufacturing capacity for this growth industry.

Revenues have grown at an 11% CAGR over the past five years including acquisitions. 

Six-year organic growth has been 8%, while it was 17% in the December, 2020 quarter.

Five-year CAGR has been 10% for EBITDA.  Free cash flow has been flat, while consensus expects considerable growth in cash the next few years.

Gross margins have averaged 34% for the past five years, are expected to increase slightly the next few years.

R&D averages 2-3% of total revenues.

Free cash flow return on capital has been in the low single digits, and is this low because of the extensive acquisitions and the capital investment cycle.

The company does not have a great return on capital/equity/assets profile at present. Total shares outstanding have grown from 121 million in 2015 to 181 million.  Management has used convertible preferred stock to help fund acquisitions—as with $650M of convertibles used in the $1.2B acquisition of  Paragon Bioservices in 2019.

Net working capital as a percent of revenues has averaged 16% in the past five years.  Inventory turns are about 7x and DSOs average 85 days.

The company does not pay a dividend.
Management:

CEO John Chiminski has been CEO with the company for 12 years.  Prior to this, he was CEO of GE Medical Diagnostics and worked in GE Healthcare for over 20 years.

CFO Joe Wetteny joined Catalent in 2008, has held a number of roles, and was named CFO in 2018.

COO Allesandro Maselli joined in 2010 and was named COO in 2019.  He worked at ABB and began his career as an automation systems engineer.

There are 11 members on the board with average tenure of only about 5 years. Greg Lucier (formerly of Invitrogen) is on the board.
Consensus outlook:

Revenues: analysts expect 15%, 10%, and 11% growth, respectively in 2021 to 2023.

EPS: analysts expect 19%, 17%, and 11% growth, respectively in 2021 to 2023.

EBITDA: analysts expect 17%, 13%, and 15% growth, respectively in 2021 to 2023.

FCF: analysts expect 27% and 73% growth, respectively, in 2021 and 2022.
Valuation and share price

:

Valuation: on CY 2021: 42x P/E; 21x EBITDA; ~110x TEV/FCF

Valuation on CY 2022: 36x P/E; 19x EBITDA; ~80x TEV/FCF

Stock:

The stock rose about 100% during 2020 and has moved significantly above where we first worked on Catalent 2 ½ years ago ($40 in September, 2018).

The stock is unlikely to trade below ~15x EBITDA, which on calendar year 2020 would be a $70 stock. 
Exhibit Slide I:
Legal Disclaimer: The intent of this presentation is to provide timely and useful information to current and prospective investors. It is neither an offer of sale of interests in the Limited Partnerships nor is it an endorsement of any of the companies mentioned herein or held as investments. Although the information set forth above has been obtained or derived from sources believed to be reliable, the author does not make any representation or warranty, express or implied, as to the information's accuracy or completeness, nor does the author recommend that the above information serve as the basis of any investment decision. All representations of past performance or other financial measures are not indicative of future results and are presented for informational purposes only. Risk analysis is hypothetical in nature and should not be relied upon as a determinant of future results. Inherent in any investment is the potential for loss. This document is for informational purposes and should not be considered a solicitation to buy, or an offer to sell, a security.